By Angel Tong
As you may have heard, IPC Shopping Centre has recently been redeveloped at a cost of more than RM200m, along with a new brand refresh. With its new look, IPC also comes with a series of exciting new features that caters to a seamless shopping experience. When you visit the centre, you'll be greeted by bright Scandinavian colours and atmosphere. The redeveloped  shopping destination has now channeled it's focus towards family-friendly facilities such as family rooms, kid-friendly toilets, Funland for kids and wider walkways for strollers and even wheelchairs.
Keeping to its streak of exciting new offerings, IPC has introduced something for our smartphones as well – a new mobile app!
The IPC app can be found on both Google Playstore and Apple App Store and it is free to download! (As Malaysians, free stuff is love)
At first glance, the app looks just like any other shopping centre app, with store directory, event highlights, geographical location of the outlet, opening hours, contact details, so on.
But what makes the IPC app one-of- its-kind, is the little science and thought put into it – making the app work like a mood expert (when it comes to food that is). This interesting function is called The Mood Menu and it answers our everyday dilemma – What to eat?
IPC worked together with Spotify and the world's foremost taste psychologist, Professor Robin Dando, from Cornell University in New York, to create the food-and- mood matching tool that is based on a complex proprietary algorithm of human emotions and the effect on their sense of taste. According to the professor, human moods have the ability to inhibit or accentuate sweet, salty, bitter, sour, or umami (savoury) flavours. And how we feel is often reflected to what we listen to on our Spotify!
IPC Shopping Centre's new mobile app analyses your recent Spotify plays to match your tastes to the food offerings in the mall! Find out more about IPC's bold mobile move and the app itself here.For more information: http://thelevel.my/ipc-goes-mobile/

Posted by The Level MY on 25hb April 2018
This means that whenever we feel sad or happy, we either listen to upbeat or mellower songs and crave for certain type of flavour. With this logic, The Mood Menu is born! IPC Shopping Centre wants to provide unique shopping experiences to all their visitors and with this app function, it hopes to save Malaysians from spending too much time on their meal-time dilemmas, and have more time to create positive memories together with friends and family.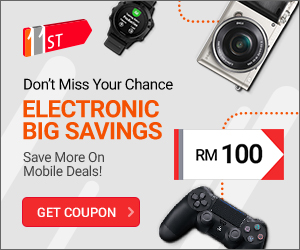 So yes, the IPC app has everything we need when we are there, from its responsive and easy navigation to the The Mood Menu.
If you're reading this article during your lunch or dinner time, maybe it's time to put the IPC app to the test?