Right, it's the first week of November which means that Pink October is over. Don't stop fighting the good fight (against breast cancer). That being said, the MATRADE building over on Jalan Duta played host last weekend to WomenFest – a shopping and lifestyle festival aimed at women, and the first of its kind in Malaysia.
With over 100 local brands featured, it was certainly An Experience (capitals required).
I consider myself pretty good with conventions and festivals. Earlier this year, I attended Good Vibes Festival up in Genting Highlands – which was definitely a first for me. I've been going to comic conventions like ACG and Comic Fiesta for years. That being said, this was different. This was like the beauty fairs and markets I usually go to, but on a much bigger scale. It was intense. I was honestly intimidated.
Not that I really should be, considering that I love beauty and fashion like the rest of these women but going alone to this event? I should've reconsidered. I also should've reconsidered driving there.
That's not what you're reading this for, are you?
There were a lot of people in attendance, with many taking photos at the photo wall and excitedly snapchatting, uploading and hashtagging away. I saw so many selfie sticks and selfie ring lights. This was definitely an event to be seen at. In fact, I immediately felt self-conscious about my faded hair dye. With Instagram influencers, Twitterjaya darlings and other celebrities attending – whether to make an appearance, or to participate in panel discussions – there was a glut of photo opportunities.
This festival highlighted the best of local fashion and lifestyle brands – both well-known and upcoming. Many brands debuted their latest collections and hosted amazing sales (up to 70% off, you know it) that were only available at the festival itself. No, I didn't buy anything. Whether you wanted RTW from Syomirizwa Gupta or halal cosmetics from Sofwanah Cosmetics, it was there. There were lines trailing out from each of the booths, women excitedly picking up items in bulk. I even spotted a few ex-classmates who have started up their own lines, so good on them!
WomenFest even included things for your kids and partners to do – whether it was checking out the food trucks out in front or painting at the Sparks' booth. A touch most families appreciated. I still saw a number of boyfriends being dragged to the Bubble Gum Wax booth to experience the process.
There were a number of interesting panel discussions and workshops, including one on beauty standards featuring Morena Cosmetics founder Isma Husein, Mourhrna Reddy and Shafiqah Othman. There were live performances, makeup demonstrations, styling sessions and awareness talks, some of which I stayed for and others, I backed away because the crowd was packed together like sardines in a tin.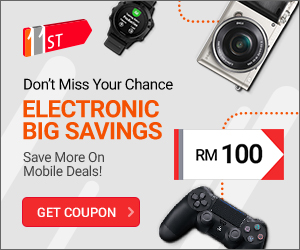 Would I go again? Yeah, I would. Should you have gone to check this out? Yes, you should. Malaysia has a lot to offer in terms of lifestyle products, and we should be supporting these homegrown brands. Just, maybe I'd go with a couple of friends next round.